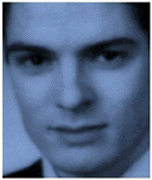 My name is Rado Vleugel. I was born on January 1, 1973 in the city of Amsterdam while fire crackers where making a lot of noise.
The January 15, 1994 Watchtower page 22 tells something about my history as a Witness of Jehovah:
"Rado, mentioned earlier, was six years old when two pioneers studied the Bible with his parents. When still very young, he regularly accompanied these full-time preachers in the field ministry. Rado himself became a regular pioneer at the age of 17."
One year after I started pioneering the elders appointed me as a ministerial servant. The same year, when I was still eighteen years old, I was assigned to conduct a congregation bookstudy.
In the autumn of 1998 I purchased a new computer with a built-in modem ready to surf the internet. Within a week I discovered the site of the AJWRB.
For several years I had already had doubts regarding the blood issue. For example, I didn't deliver the May 22, 1994 Awake! with the topic "Youths who put God first", about young Witness children who died because they refused blood transfusions.

Read the rest of this article. . .